4 Palm Springs Hotels Under $160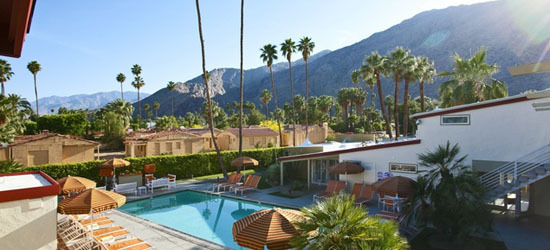 Photo Courtesy of Courtesy Del Marcos Hotel. Article by Paige Wright, contributor to Budget Travel.
This desert oasis is heating up in more ways than one, rolling out new -- and renovated -- hotel rooms and more nonstop flights than ever. The name conjures images of ritzy -- and exclusive -- getaways. But Palm Springs, Calif., is one stylish vacation destination that loves you right back, with a laid-back, relaxing vibe and prices that say "welcome"!
Click here to see the affordable Palm Springs hotels!
Los Arboles (from $69)
Modeled after a posada (traditional Mexican inn), the 21-room boutique Los Arboles, located in the Movie Colony district, combines family-style warmth with ultra-modern amenities. Each room boasts Talavera Mexican tiled baths, there's a massage therapist on call, and a Jacuzzi offers mountain views. An exceptional restaurant, El Mirasol, serves up award-winning Mexican fare like chicken mole and shrimp en pipian, with closely guarded recipes from the hotel founder's own family kitchen.
784 N. Indian Canyon Dr., losarboleshotel.com, from $69
Alcazar (from $89)
You gotta love a place where you just might savor a fireplace and an outdoor swimming pool on the same day. In the heart of the hipster Uptown district, Alcazar launched in 2011 with an ultra-sleek minimalist edge. Here you'll get fresh pastries from legendary Cheeky's restaurant, artisanal coffee from Intelligentsia, bicycles, Italian linens, and stunning mountain views. If you feel like doing anything more than lounging, Birba is the place for cocktails or dinner by an outdoor fire pit, on a comfy couch, or at the gorgeous Carrera marble bar.
622 N. Palm Canyon Dr., alcazarpalmsprings.com, from $89
The Saguaro (from $159)
Some Palm Springs hotels blend into their desert environment harmoniously, mimicking the grays, tans, and browns of the local terrain; The Saguaro is the exception, self-consciously standing out -- in a pleasant way -- with a palette inspired by the region's brightly colored desert flowers. Comfy and handcrafted Mexican furniture sets the interiors apart too, and the largest pool in the city sits beside a bar and restaurant with recipes from Iron Chef winner Jose Garces. Indulge in daily yoga, beach cruisers, and a spa with indigenous treatments.
1800 E Palm Canyon Dr., thesaguaropalmsprings.com, from $159
Del Marcos (from $159)
If you can't imagine a Southern California getaway without a beach, a nice float in the Del Marcos's saltwater pool is for you. You can also hop on a complimentary beach cruiser and explore the town. If you're traveling with a pet, ask the hotel for a pet-friendly room, but leave the kids at home -- it's grownups-only, with a front desk that can arrange tee times at local golf courses and in-room spa treatments. The spacious rooms feature mid-century modern furnishings, the most noteworthy being the splurge-inspiring Eames Poolside Suite.
225 W. Baristo Rd., delmarcoshotel.com, from $159
More From Budget Travel:

10 Best Budget Destinations for 2014
10 Stupidest Things Americans Do Overseas
40 More Passport Stamps Worth Bragging About
13 Travel Products You'll Need This Winter
11 Bucket List Adventures You Can Actually Afford
Want the inside scoop on the hottest travel deals? Sign up for our free e-newsletter and follow us on Twitter, Facebook, Pinterest, and Instagram.